We've been in the COVRD showroom for almost two years now, and thought we'd take a moment to reflect on how we've settled into the space and look back at how it came to be. With COVRD growing and evolving over the years, it was always our plan to create a corporate space that is hyper conducive to our requirements as a commercial interior coverings supplier. We knew exactly what we wanted — a space that would function simultaneously as an office, showroom, education and event space, and warehouse. A central location was also high on the priority list so we're easily accessible to our clients.
Enter 3a Church Street, Perth (Northbridge)! Running parallel to Newcastle Street, and nestled between Lake and Palmerston Streets, this fabulous location offered the accessibility, size, layout, and lifestyle we were looking for. It ended up being a bit more space than required for COVRD on its own, so we approached our friend and ergo-man Tim Goodred from Humanscale to share this space and boom! We signed on the dotted line.
With a pre-existing office area already allocated, our task was to design and construct the remainder of the space, specifically assembled to be disassembled. Dexium racking backed with plywood and false timber walls strategically hide the storage part of the warehouse from view and also define a boardroom-style area for meetings and events.
The three T's (Tim Stacey, Thomas Rowe and Tim Goodred) lay Shaw Contract's Inside Shapes carpet tiles on the exhibit floor — a designated area to showcase a rotation of Shaw's flooring options. Welcome II tiles were installed outside of the exhibit space to trap any soil and moisture at the entrance. The separate office area features a softer tile from the Off the Grid collection, called Seek, bringing a bit of warmth and texture to the space.
Given the sheer size and height of the warehouse, and Tim's discerning ear, installing some of Instyle's latest acoustic products was a no brainer. We suspended Ecoustic Baffles over the boardroom table and Ecoustic Sculpt Network at the entrance of the warehouse to reduce sound travel, make the space feel more intimate, create zones, and showcase the product to our clients.
In the office we installed Ecoustic Torque ceiling tiles (that have an undulating wave-like appearance to complement our surf theme and work alongside a dear friend's long board mounted on the wall) and 25mm ecoustic panel pinboards on the walls, for sound reduction and functionality. We work with Humanscale's sit to stand desks, monitor arms and chairs, so we are ergonomically, acoustically, functionally, and aesthetically taken care of!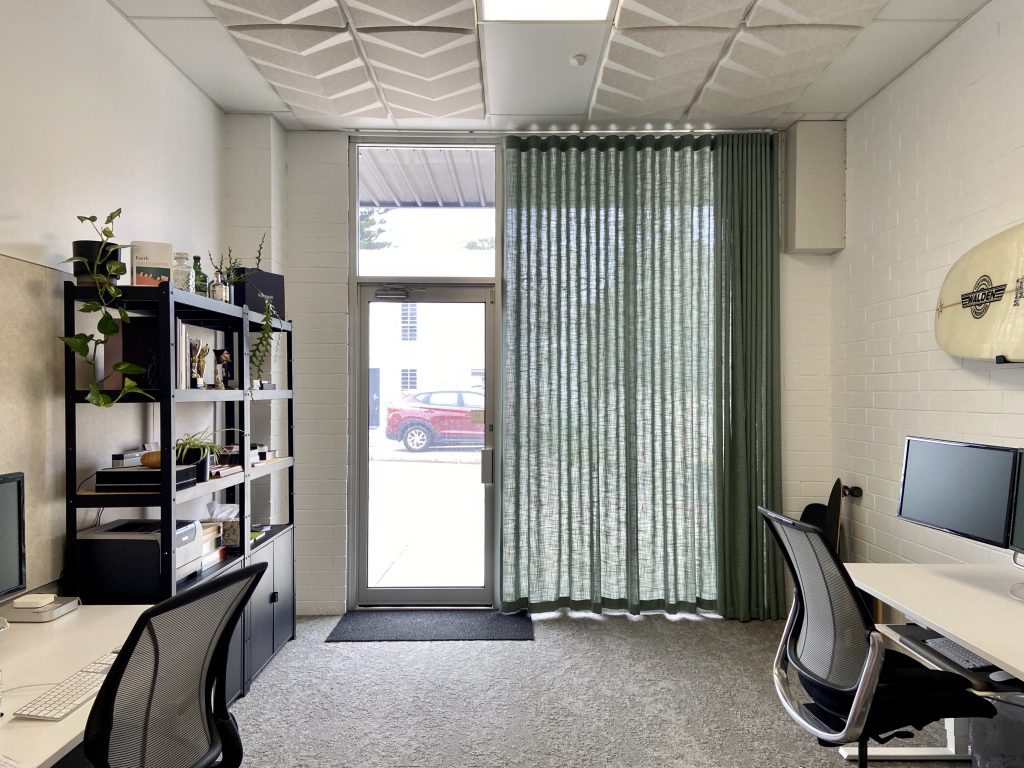 Even though our office boasts some really fantastic products from the brands we represent, we spend a lot of time here and wanted to put our own stamp on the space. We commissioned talented local artist Saira Spencer (@sairaellen) to create something unique for one of the warehouse walls, and she went to work creating a dark and free flowing installation for us — her first ever attempt at a large scale mural. We were absolutely thrilled with the end result, which has sparked many conversations relating to our own various interpretations of its meaning. Just as art intends!
We haven't altered our office much at all since moving in, which indicates to us that the products we've installed in here are delivering both functionality and aesthetically. Looking towards the future, we would like Church Street to be a dynamic and collaborative hub for architects and designers looking for high performing interior products for commercial projects. We welcome you any time!
A huge thank you to the following companies and their contribution to our space:
Humanscale: Workstations, monitor arms, caster chairs, task lights
Shaw Contract: Flooring
Instyle: Acoustic panels and baffles, hanging textiles & leathers
Zepel Fabrics: Curtain fabric in office (Motion 'Forest'), manufactured and installed by Unique Curtains and Blinds
MJA: boardroom table
Modular Lighting & Partners: Lighting
Handwerk Cabinet Makers: Sideboard
Saira Spencer (@sairaellen): Art
UCI: workstation tops