Winners announced!
We are thrilled to announce the winners of our Re-floor with Shaw competition. Our Judge's Choice award recipient was chosen by DIA President Gavin Campbell and COVRD Director Tim Stacey and our People's Choice award recipient was voted by the good people of Instagram. Congratulations to:
Judge's Choice winner
Jess Beaver
Reflections
Jess's design was chosen for her understanding of the use and functionality of the COVRD Studio space, acknowledging it is a commercial workplace that has to operate as a showroom, meeting and event space. Jess also linked her specific carpet finishes to her overarching design story about connection country and place. Crucially, she used a blanket of similar products for better use of the area, ease of install and less wastage, and followed all competition submission requests. Well done Jess! You can view her submission entry and the Shaw Contract 2D render of her design below.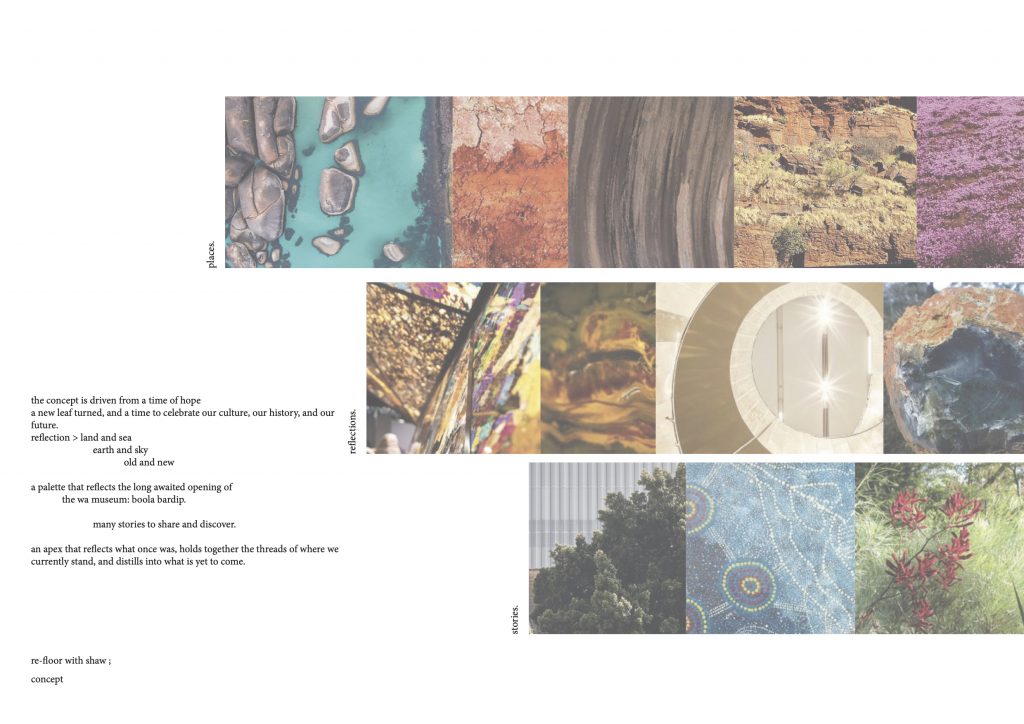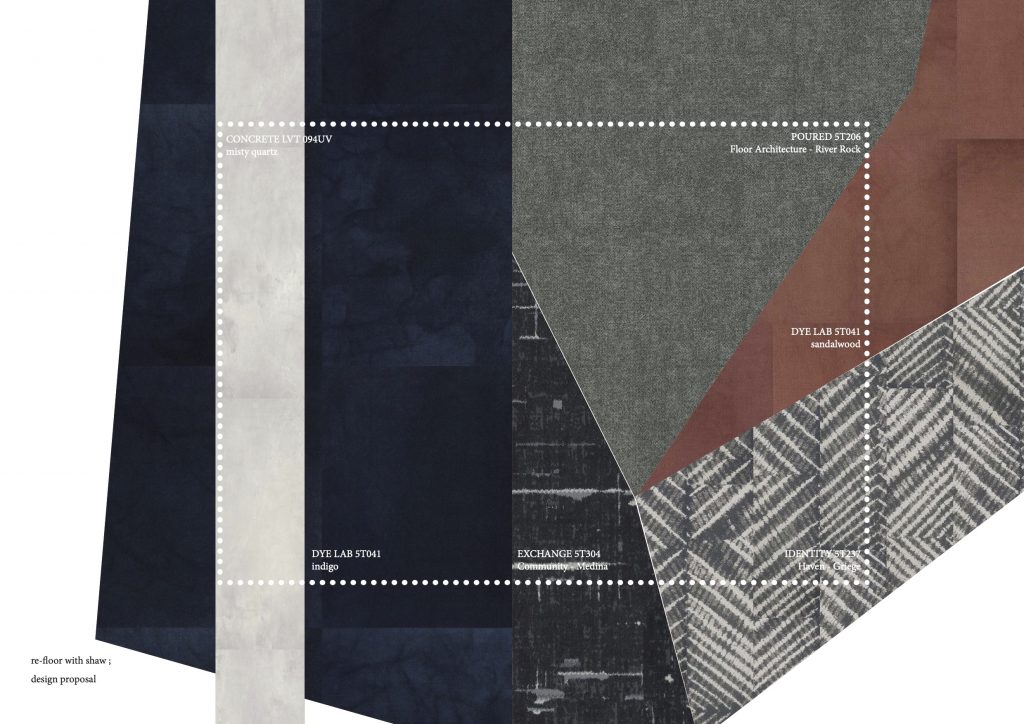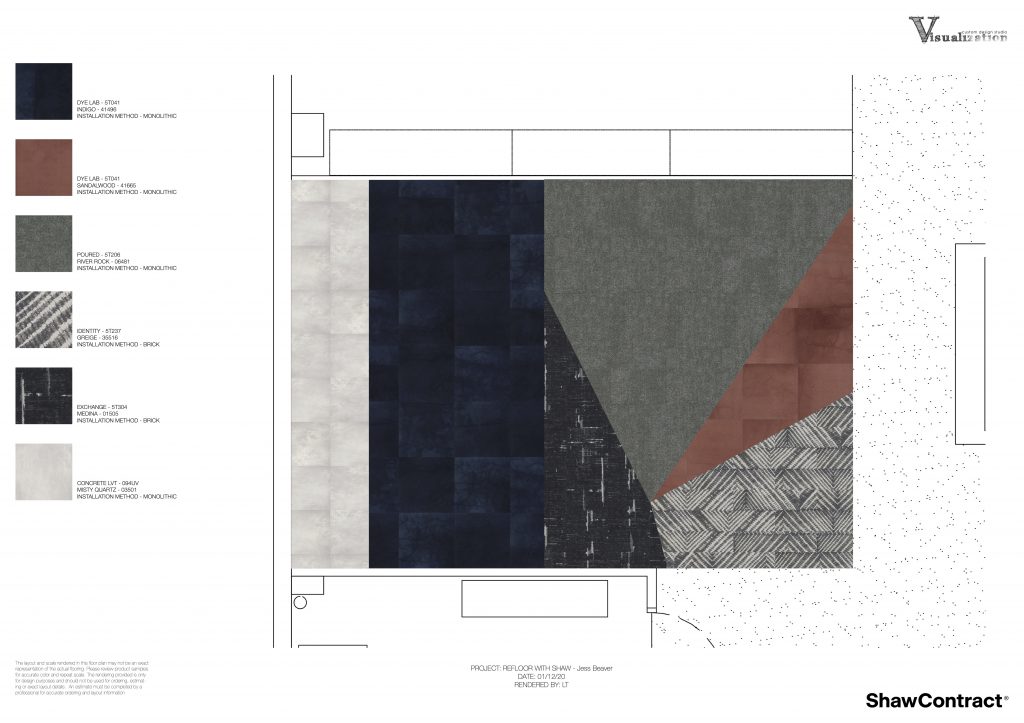 People's Choice winner
Angelica Nordstrom
Aladdin Sane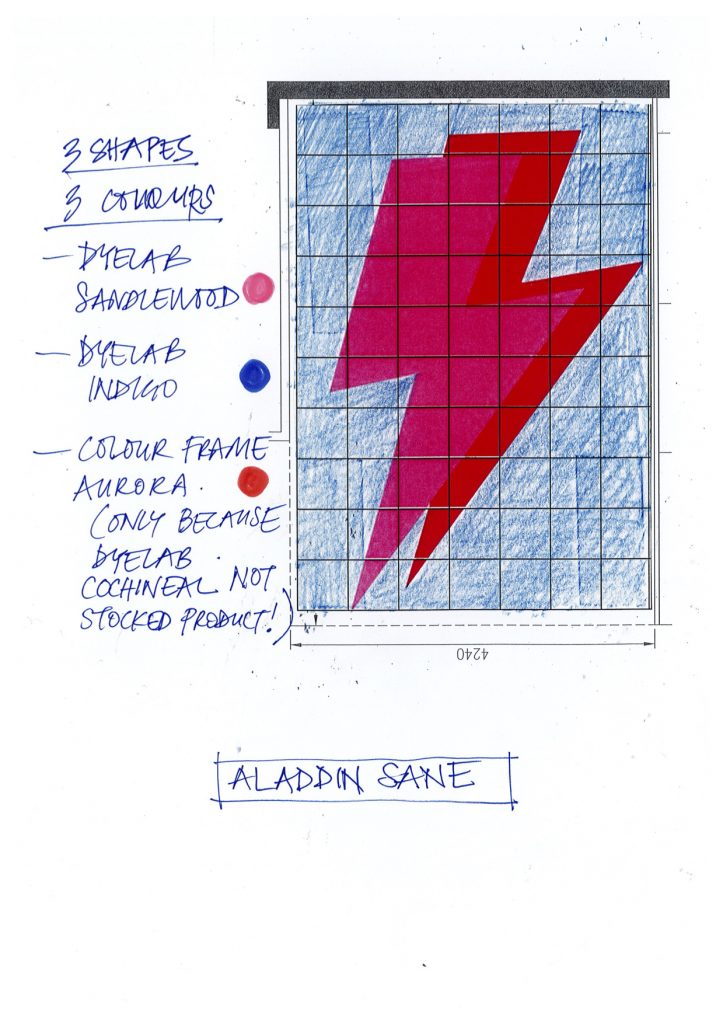 ****
Competition details
The COVRD Studio is a dynamic space, designed to meet the evolving needs of our clients and house our impressive range of commercial interior coverings. Our accent floor is an important part of this space, bringing the all-important 'wow factor' while also showcasing our Shaw Contract products on rotation.
COVRD and Shaw Contract have been working together for more than two years, bringing sustainable products to WA places where we heal, learn, rest and work. Shaw's strong focus on sustainability is an organisational value we share — we are proud to offer beautiful and sophisticated products without compromising quality, sustainability or availability.
We thought creating a competition to design the next instalment of our accent floor would be the perfect example of how to consider human and environmental health through sustainable flooring products and design.
Please read on for all the competition details!
Award categories
The Judge's Choice award recipient will win a two-night stay at one of Tiny Cabin's 'off-the-grid' cabins. There's Joey the Tiny Cabin (Hills/Northern Valley), Cabins on the Vine (Margaret River region) or the Northern Valleys cabin to choose from!
Their design will also be installed on the COVRD accent floor using LokDots, with the winner invited to participate in the installation and experience the easy and mess-free process first-hand.
The People's Choice award recipient will win a $100 voucher to Fremantle institution Manuka Wood Fired Kitchen. Chef Kenny McHardy is renowned for sourcing WA growers and producers whilst supporting ethical and sustainable farming. They will also take home a Cradle-to-Cradle reference folder.
Criteria
Please submit your design by no later than 5pm Friday 20 November, 2020.
Step 1:
See the the images of our recent accent floor designs below and view the floor plan to get an idea of the space and plan your design.
Consider your design intent here, and the vision you are bringing to the COVRD Studio. What story are you trying to tell, and to who?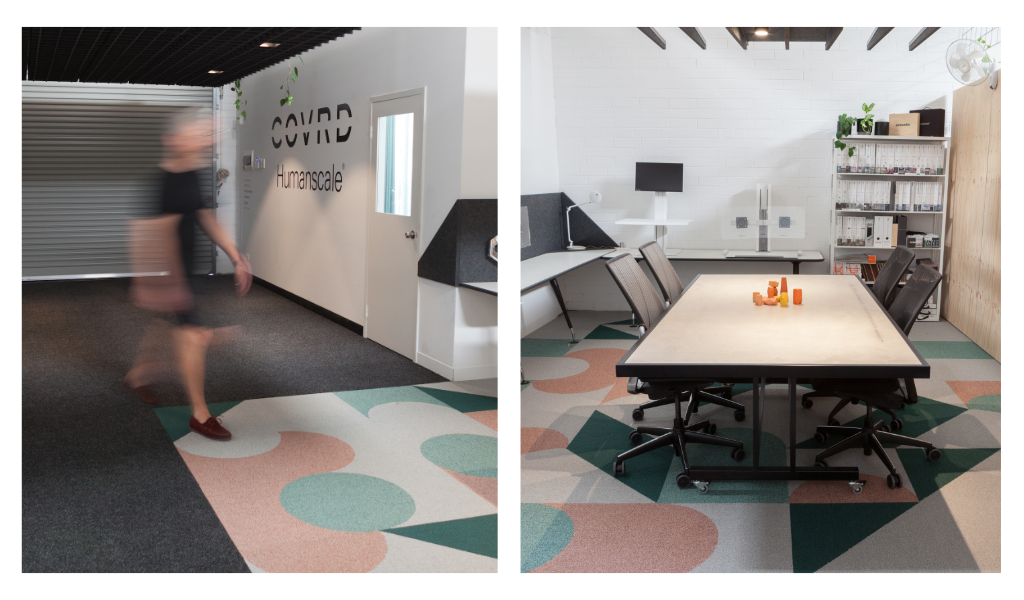 Step 2:
The products you specify need to be selected from Shaw's In Stock Australia program range. With over 200,000 square metres of carpet tile and resilient products available for immediate despatch, we have a solution for every segment and project need!
Then, compose a Product Board with your In Stock selections to see how your choices come together.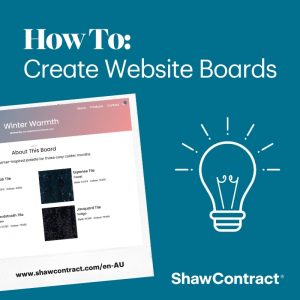 Resources
Step 3:
Design the floor installation as a sketch or drawing using this A3 Floor Plan PDF or DWG file.
Step 4:
Create a specification schedule for the items to be installed, including the details listed below where applicable:
Item code
Manufacturer: Shaw Contract
Collection: **** e.g. Community
Style: **** e.g. Flat Weave 5T321 carpet tile
Colour: **** e.g. Argan 5T321
Size: ****
Backing: Primary: synthetic / Secondary: EcoworxⓇ
Fibre Content: e.g. eco solution qⓇ nylon
Warranty: Lifetime Commercial Warranty
Suitability: Heavy Commercial Use
Installation: monolithic / stagger / ashlar / quarter turn / brick / herringbone / basketweave / random
Adhesive: Shaw Contract LokDots adhesive system / Shaw Contract 5000 Pressure Sensitive adhesive
Step 5:
Submit your entry! Email us with the following by 5pm on 20/11/20:
Product Board featuring your specified products
Sketch or drawing of your design
Specification schedule
Any other documents to support your entry. This may include a design statement, mood boards or concepts.
Judging process
A week after submissions close, five finalists will be chosen to have their designs visualised in 2D render by Shaw Contract's complementary Visualisation Services team.
Our judges (announced soon!) will select the Judge's Choice winner from the five 2D rendered designs. The judges will consider the designs and the stories behind them, so please ensure you have supplied as much information as you can with your entry.
In early December, we will share the remaining four 2D renders on the COVRD Instagram page and ask followers to choose their  favourite. From this, the design with the most votes will win the People's Choice award.
Both awards category winners will be announced in mid-December — just in time for Christmas!
GOOD LUCK!